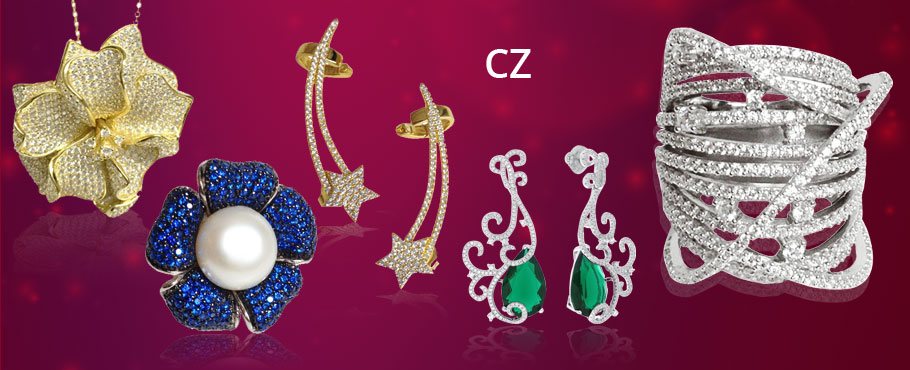 When shopping for jewelry, most people go for traditional precious metals such as diamond and gold. However, the jewelry industry has evolved rapidly over the years with new technology leading to the development of new jewelry materials. Among these synthetic materials is Cubic Zirconia (CZ) which has emerged as the most popular alternative to diamonds.
As the fashion industry aims for sustainability, there's a search for alternatives to natural gems and metals. If you are in the market for awesome but affordable jewelry, it is time to examine why CZ jewelry is now in vogue. It is the first step in keeping up with the hottest trends in the fashion industry.
Cubic Zirconia Jewelry in Brief
Cubic Zirconia is also known as diamond simulate, synthetic diamond, or faux diamond. It is a synthetic material made in a lab by melting powdered zirconium and zirconium dioxide under intense heat.
The result is a flawless stone that is free of inclusions and which compares to diamonds in terms of brilliance and crystal clarity. During the manufacturing process, the stone can be created in any color to simulate any diamond color. CZ jewelry production started in the 1970s and it has grown in popularity as the best diamond alternative.
Reasons to Wear Cubic Zirconia Jewelry
Many fashion lovers now look for alternative jewelry to get more value for their money. While diamond's value initially came from its brilliance, light dispersion and beauty, more people now go for it due to the high price tag.
Any diamond piece on the market will set you back thousands of dollars and you might not even get a genuine stone. This is just one reason to opt for equally beautiful synthetic Cubic Zirconia Jewelry. Other reasons making CZ jewelry trendy include:
1. Sustainability
The fashion industry has come under scrutiny due to its irresponsible attitude toward the environment. While everyone wants to look good, not many people in this industry want to look at the bigger picture.
There's a lot of pressure to turn to sustainable jewelry production and one way of doing this is by developing alternatives to natural metals.
CZ jewelry is a hot trend as many fashion influencers and celebrities vouch for its entry into the mainstream market. If you want to look good and still save the planet, it is advisable to go for sustainable jewelry like this.
You can also overhaul your jewelry collection by buying cubic zirconia jewelry wholesale. This will be a big statement about your commitment to saving planet earth.
2. Ethical Concerns
While precious metals such as gold and diamond ooze irresistible beauty, there are concerns about their origins. Diamonds have received a lot of flak due to the poor mining conditions, human rights abuses and other horrendous practices involved in extracting the minerals.
Many fashion houses now shun blood diamonds and instead opt for synthetic materials such as Cubic Zirconia. If you want to wear your jewelry with a clean conscience, it is time to look at what CZ jewelry has to offer.
With more awareness about the horrific conditions involved in natural mineral extraction, CZ jewelry will continue trending as the coolest alternative.
3. Durability and Strength
One of the main considerations when shopping for jewelry is the durability of the material. Most natural materials are susceptible to damage from exposure. They require special care and this makes them a costly investment.
Cubic Zirconia is a tough and durable material formed under intense eat conditions. With a hardness rating of 8.5 on the Mohs scale, it comes close to a diamond with a rating of 100.
There are no cleavages on the stone that reduces the risk of cracking and chipping. If you want to invest in long-lasting jewelry, you should look at the wide variety of Cubic Zirconia Jewelry on the market.
4. Flawless Jewelry
One of the major drawbacks of natural stones used in jewelry making is the presence of flaws. Diamond, which is one of the most precious metals, contains inclusions and it is almost impossible to find a flawless stone.
This is where Cubic Zirconia comes in handy as an alternative as it is optically flawless. The gemstone has superior fire, brilliance, and sparkle than a natural diamond. If you are looking for a dazzling gem for your jewelry, Cubic Zirconia should top your list.
5. Elegance and Beauty
Cubic Zirconia jewelry has become the most popular alternative gems because it comes close to that glamour and elegance of the natural diamond. It is hard to tell the difference between a CZ crystal and a diamond stone. Both are brilliant and stand out due to their beautiful appearance against the light.
6. Affordability
While everyone would like to don a diamond, the price is too high. Since the top diamond manufacturers declared "diamonds are forever" the prices have kept on rising as consumers have bought into the hype. Cubic Zirconia Jewelry is more affordable and yet it has most of the qualities you like in a diamond. From brilliance, hardness to elegance, you can get all this from CZ jewelry without breaking the bank.
7. Versatility
It is possible to get CZ stones in any color as the production is in a laboratory. If you want to create a bespoke piece, you can shop for CZ gems in your preferred color to make a custom piece. Some common CZ colors include colorless (or white), pink, blue, champagne, purple, orange and green.
You can customize your necklaces, engagement rings, wedding rings, pendants, bracelets, earrings, eternity rings, and other forms of jewelry using CZ stones.
8. Easy To Wear Jewelry
Cubic Zirconia Jewelry is easy to wear with both formal and casual outfits. If you want to upgrade your jewelry collection, CZ jewelry will do the trick and you will have different pieces to suit any occasion.
Final Thoughts
Looking for an anniversary ring? Maybe you want to overhaul your jewelry collection? Whatever your jewelry needs, Cubic Zirconia Jewelry is a trend you should not miss. This beautiful jewelry is affordable, versatile, eco-friendly, ethically manufactured, durable and sturdy. It is the ultimate alternative to diamonds and no one can tell the difference.