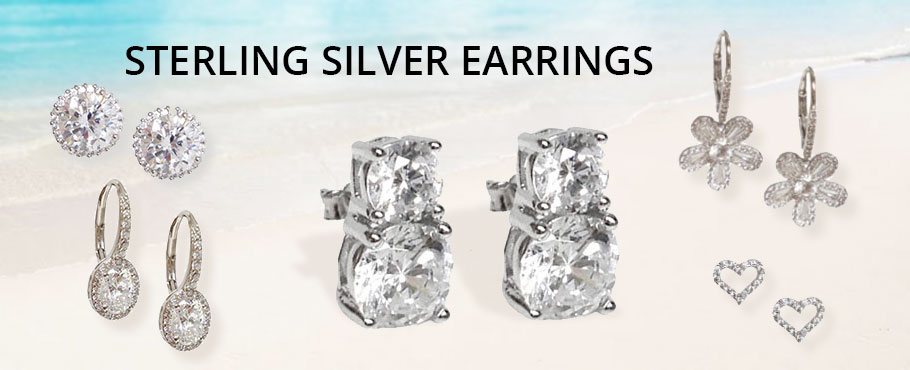 Earrings are among the best (and safest!) gift choices for almost any occasion (and for any woman). Whether you are contemplating buying something for your beloved, or looking for gift options for a friend's birthday, or hunting for an apt something for someone's graduation celebration, wedding, anniversary, or anything else – earrings make a wonderful gift.
Here's your complete guide to why you should gift earrings and how you should go about picking the right pair.
So, what is it that makes earrings a great gift choice?
Well, for starters, earrings are extremely versatile pieces of jewelry, so you basically can't go wrong with them. They can be worn with almost any outfit – casual, formal, festive, etc.
Earrings come in a massive variety of shapes, sizes, and designs, giving you a plethora of options to choose from. Modern-day earrings are quite affordable, too, depending on what base metal and stones you are choosing. P&K Jewelry, for instance, offers an assortment of sterling silver earrings that are not only quite affordable, but also stunning and long-lasting.
7 different types of earrings you can choose from
Studs
Studs are an excellent choice, regardless of face type, age, or gender. Sterling silver studs usually feature a gemstone and come with a fastener to hold the stud in place on the other side. Small, easy to pair with any outfit, and highly versatile, silver stud earrings are a safe bet (especially if you aren't quite sure about the choices or preferences of the receiver of the gift).
Drop earrings
Drop earrings are dynamic pieces of jewelry that could feature gemstones, pearls, or any other type of ornamentation that basically drops down from a wire or hoop. From subtle and delicate designs to bold and over-the-top options, you can explore a wide variety of makes and designs in silver with varying lengths.
Dangler earrings
Silver danglers are a popular choice among the younger generation because of the different quirky shapes and design options available in the market. Small silver dangler earrings could feature eccentric elements like flowers, droplets, cupcakes, unicorns, letters, crowns, birds, butterflies, teddy bears, geometric shapes, and more.
Silver hoops
Hoops are another highly sought-after type of earrings for women. Some silver hoops are a complete circle, while other designs feature a semi-circular design. Hoops made from pure gold or sterling silver look gorgeous when paired with an evening gown or festive wear.
Diamond/pearl earrings
Pearl or diamond earrings are hot favorites among female customers or men trying to woo them – and for good reason. Whether a woman prefers edgy jewelry or elegant, understated pieces of embellishment, both diamond as well as pearl earrings lend a classic look. Sparkling and classy in equal measure, you can find massive selections of diamond studs, pearl earrings, and more in the physical and online marketplace.
Gemstone-studded earrings
Colored gemstone earrings are fantastic if the receiver of your gift is fond of various types of stones. From topaz and emerald to sapphire and ruby, you are likely to find several options in combination with gold and sterling silver.
Chandelier earrings
Silver chandelier earrings are also drop earrings but they generally consist of ornate tiers that add a bit of drama. If someone likes making a statement and standing out in the crowd, going for a ravishing pair of chandelier earrings might just be the perfect gifting decision.
Factors to consider when choosing earrings for someone
Skin undertone
It is essential that you understand how to select the right earrings that complement an individual's skin tone. For example, if the person you are gifting earrings to has warm, yellowish skin undertones, it is best to go for yellow gold. However, if the person in question has pale skin or blue undertones, sterling silver or white gold might look better.
Eye color
You can also choose a pair of earrings – especially those with gemstones – based on someone's eye color. The key lies in making the natural eye color pop by choosing stone-studded earrings that help bring out the dark or light undertones. If you cannot identify the right stone color, simply go for diamond earrings – everyone loves diamonds!
Face cut
Experts at P&K Jewelry reckon silver hoops generally don't look great on people who have a round face. On the other hand, for those with a well-defined jawline, a circular earring can soften their sharp features. Studs work well for all face types.
Their existing jewelry collection
You can gauge a lot from the kind of earrings that someone already wears. The simplest thing to do is observe the general pattern and conclude what kind of earrings someone seems to like. You can also look at items like bands, rings, necklaces, pendants, and bracelets to find just the perfect pair of silver earrings that can complement them.
Purpose
This one is entirely up to you – do you want to gift something that only comes out on really special occasions or would you rather give them a pair that they can wear on a daily basis? Based on the purpose, you can decide whether you want to invest in a glamorous, show-stopping pair of dangling silver earrings or a subtle-yet-stylish pair of diamond studs.
So, there you have it – seven eclectic types of silver earrings and five ways in which you can gauge what to buy for someone. The next step is to find a reliable source from which you can buy your preferred pair of sterling silver earrings.
At P&K Jewelry, we offer the widest selection of sterling silver earrings (retail and wholesale). Browse through our extensive range of premium quality sterling silver earrings. From charm earrings and vintage designs to modern varieties and crystal earrings – all our genuine designs are skin-friendly, durable, and affordable.
No matter whom you are buying the earrings for – you will find it all right here at P&K Jewelry. Happy shopping!