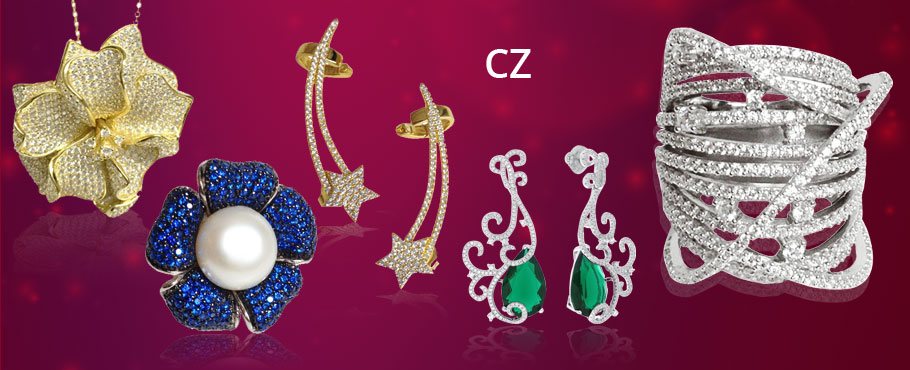 Looking to spruce up your jewelry collection on a budget? Maybe you want to rock trendy accessories but can't afford the high cost of precious metals? If your answer is yes, it is time to explore Cubic Zirconia (CZ) Jewelry. While most people only focus on precious metals when thinking of jewelry, Cubic Zirconia has emerged as an affordable yet high-quality alternative.
If you want to spruce up your fashion accessories, this guide offers all the information you need on Cubic Zirconia jewelry.
What Is On Cubic Zirconia Jewelry?
Cubic Zirconia is a lab-manufactured crystalline material whose production started in the 1970s. It is formed by melting powdered zirconium dioxide and zirconium together at heated conditions of up to 4.982F.
The stones formed have an uncanny resemblance to diamonds. Today, CZ gems are the leading diamond-alternatives for all types of jewelry and fashion accessories. If you want to buy brilliant jewelry without breaking the bank, wholesale CZ jewelry is a smart choice.
What Makes CZ Jewelry So Great?
Before buying into any fashion trend, it is important to assess the qualities of the products you wish to buy. For Cubic Zirconia Jewelry, some of the advantages include:
Durability: If you want to buy everyday jewelry, you need a tough material which is exactly what you get with Cubic Zirconia Jewelry. On the Moh hardness scale, Cubic Zirconia comes at 8 while diamond is at 10.

Flawless clarity: One of the major problems with natural gems including diamond is the presence of blemishes or inclusions. This diminishes their sparkle but this is not a problem with Cubic Zirconia. It is a flawless material that would rank at F on Diamond's clarity scale.

Magnificence and brilliance: The lack of inclusions in CZ gems makes your jewelry sparkle brilliantly as it can disperse light more impressively. These pieces are elegant and glamorous and make for perfect statement pieces.

Affordability: Most jewelry lovers would like to buy a beautiful diamond piece every time they hit the stores but it is not cheap. This is why CZ jewelry has grown in popularity over the years. It is an affordable alternative to the diamond without any compromise on the quality or appearance.

Upgrading your collection: If you feel like an upgrade in your jewelry collection, you can go for wholesale CZ jewelry because the pieces are affordable.

Versatile jewelry: These accessories are ideal for every occasion including formal, casual among others. You can also get a wide range of accessories from bracelets, earrings, necklaces, rings, and anklets featuring these beautiful gems.

Multiple colors: While colorless CZ jewelry is very popular, you can get these awesome stones in other colors including pinks, blues, greens, champagnes, oranges, and purples. This makes it easier for you to accentuate your outfits with matched jewelry for an amazing impact.

Eco-friendly fashion: When wearing CZ jewelry, you know there was no accompanying destruction of the environment to make you look great. It is one of the most sustainable solutions in the jewelry industry.

Ethical considerations: There are concerns around the labor used in diamond and other precious metals extraction. Many jewelry designers now opt for artificially-made gems like CZ to create conflict-free gems.
Shopping for CZ Jewelry
If you have decided to upgrade your jewelry collection with CZ accessories, there are a few things you need to consider. Take a look:
Find a reliable/reputable online dealer: Read reviews and testimonials to identify a good online jeweler. This is the only way to find high-quality products and great customer experience.

Go for bulk orders: If you want to save money on CZ jewelry, look for dealers offering bulk order discounts. Some also include free shipping for such orders and it is an affordable way to upgrade your jewelry collection.

Read the shipping and return policies and other terms: Don't buy your Cubic Zirconia jewelry before confirming all the terms of the purchase. This will avoid problems in case of damaged deliveries, poor quality or other issues with your purchase.

Look for a wide variety of products: If you want to make the best CZ jewelry purchase, look for a dealer with a large inventory. This makes it easier to choose the best items to suit your style.
Final Thoughts
Cubic Zirconia jewelry is an amazing addition to your dresser. These accessories are affordable and yet magnificent. They are the best alternative to brilliant diamond pieces without setting you back financially. If you want a quick and affordable fashion makeover, it is time to start rocking CZ jewelry accessories.