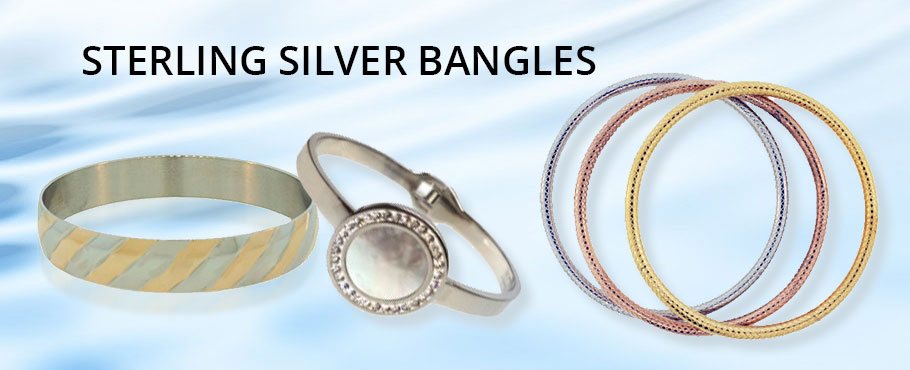 Who doesn't love the blissful sunlight's, cheerful blue skies, and summer trends? As summers are around the corner, it's time to wear comfortable, stylish, and light-colored outfits that look modish and feel breezy. So don't be afraid to add some summer fun with the cute jewelry as well! Style Sterling silver bangles! It is the best jewelry that can match your breezy vibe perfectly with your light summer ensemble.
Whether you are going for a formal event, classy party, or lounging around the house, having a bangle bracelet on your twist will definitely help you score high on the fashion scale. In addition, they are appropriate for all aged groups of ladies. When it comes to styling, their versatility makes them very comfortable and flexible. It is often the little things that contribute to pushing any ensemble to the next level in terms of styling and sophistication.
To ensure you can enjoy the summer season to the fullest, in this blog, we will share some easy ways to style your bangles with your summer fashion. We hope you will enjoy the following styling tips and get some inspiration and confidence when you next style your favorite bangle bracelets.
Keep it simple: One of the most important aspects of wearing a bangle bracelet is its simplicity and sophistication. The best way to add a bling to your everyday outfit is to keep it simple by wearing a modern sterling silver thin bracelet that you can always wear. They give an edgy twist to your overall look. A wrist full of bangle bracelets that are made with pure sterling silver that sparks and shines is a delight to the eyes.
Business chic: Choosing jewelry to wear in the office can be tricky. Having a sterling silver bracelet is the best choice you could make for jewelry for your workplace. Pairing a silver bracelet with formal wear is an excellent choice because it will give you confidence and will simultaneously look tasteful. Style a sterling silver bracelet with any of the formal dress and block heels for essential meeting days. Also for daily office wear you can pair a sleek silver bracelet with your everyday wear.
Mix shapes: Why should wear circular bangles only? If you are finding some new ways to style bangles then try out wearing different shapes together. Go for mixing squares, triangles, waves, and circles. You will definitely be amazed by the results. They look great when paired with jeans or simple tops. In addition, you can add a pair of heels, classic shoes, or sneakers with your silver bangles. So you must have sterling silver bangles wholesale because they are here to stay.
Play with the sizes: For all the ladies who want to stay classic and chic, can take advantage of the oversized bangles. Small and medium-width bangles are perfect for mixing. You can stack thinner bangles with wider ones to have a fun layered look. Just ensure that smaller bangles do not get covered up. It will look absolutely stunning and will be a great add-on when you dress them up with your classic and dressy outfits.
Bangles with different textures: Why go with boring plain jane bangles? Try wearing bangles of different textures or accents. This will help to make your wrist and arms really stand out. Not only this, but they will also help to bring out various patterns in your clothes. Try out with bold studs, beads, gems, and engraved patterns. You will be extremely happy with all the unique looks that you can make while mixing solid colored, smooth bangle bracelets with textured ones.
Embrace charms: Now bangle bracelets are no longer just normal bracelets. Bangles with charms are beautiful jewelry pieces and look insanely cute as soon as you wear them. To get a unique look for your summer fashion adds your favorite charms to a charm bangle. This style is definitely more appropriate for special occasions where you dress up beautifully and show your elegant side. Don't forget to add bright lipstick, stud earrings, and a pair of wedges to complete your look.
A travel staple: For many people, summer is the time for traveling. A sterling silver bracelet is the perfect piece of jewelry for all the women out there who love to travel. By wearing a bangle bracelet on your wrist you can embrace your love of traveling and exploring new places. Whether you are enjoying your day at the poolside, attending a beach party, or having a long flight, the sterling silver bracelet will be your best companion because it is hypoallergenic.
To keep up with the latest jewelry trends, you can add a wholesale sterling silver bracelet to your jewelry collection from P&K.
Read more: How to Tell if Sterling Silver is Real
Conclusion:
We hope this guide on how to style your bangles with your summer fashion has given you plenty to think about!
The greatest thing with sterling silver bangles is that they are very much versatile and can be used in so many different ways! And you can enjoy and have a lot of fun by trialing the various designs out!
Check out the sterling silver bracelet wholesale that we offer online on our website at an affordable price. We have all sorts of colors and styles available in bangle bracelets. So if you're looking to give yourself an affordable look of luxury, we have got you covered!
Don't hesitate to share your favorite type of bangle bracelets and how you style them in the comment section!