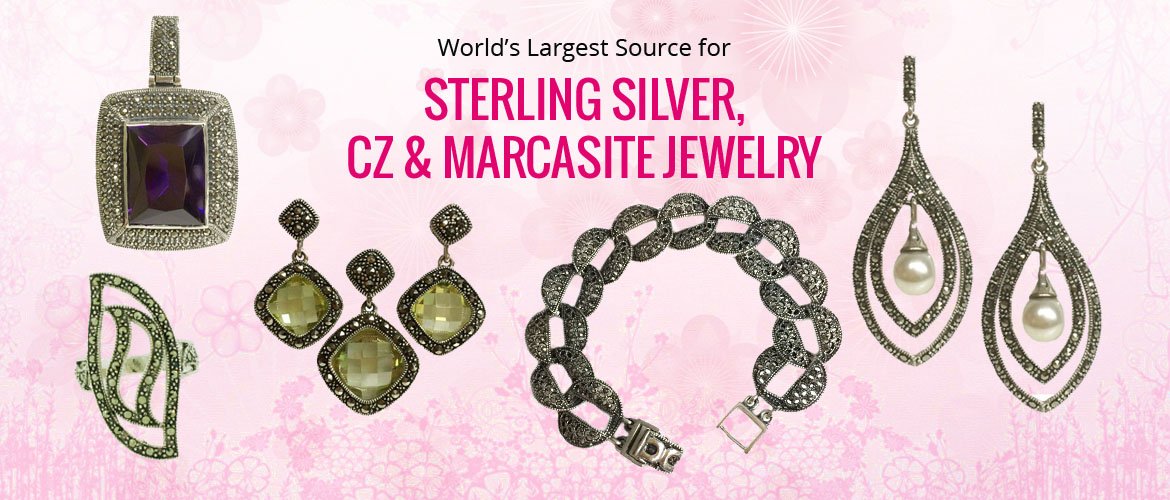 Sterling silver is an excellent metal appreciated by almost every woman in the world. This adds elegance to feminine beauty with its charm. Initially, raw silver is delicate and not suitable for jewelry. Pure silver is then mixed with copper or nickel or other metal alloys. Therefore, sterling silver jewelry is an alloy that results when copper is added to pure silver to make the resulting bond harder and less soft. Silver can be used in modern styles for work clothes and for everyday use.
In addition to its impressive beauty, the charm of sterling silver jewelry takes the form of an excuse. However, this is one of the reasons why most people cannot understand why the price of silver remains an eternal mystery. There is silver jewelry, having a low price and on the other hand, some pieces of jewelry are as cheap as any ordinary metal in the name of silver. It all depends on the material and originality of the silver.
How to care sterling silver jewelry ?
Daily use can cast a shadow on the quality of the jewelry. This discoloration or deterioration will occur if silver is kept outdoors for a long time. This stain is a natural process that happens due to the chemical reaction in the air called oxidation. That is why it is important to pay attention to his condition and to treat it if necessary.
To keep silver jewelry clean, gently wipe it with a cotton cloth. Rinse the silver jewelry thoroughly in warm soapy water. If your jewelry is looking extremely tarnished and dirty, you can dip it in water for a few hours or overnight to get rid of the dirt. Then gently touch and pour into a soft, clean cloth to dry completely.
Also, keep your sterling silver jewelry away from direct heat sources, water, perfume, deodorants, and other chemicals as they may react with metal. keep the jewelry in their original box or in their cloth bag.
Buying tips – Sterling Silver jewelry:
Sterling silver is the trendiest metal for fashion freaks. Silver offers a wide range of accessories such as bracelets, anklets, rings, and necklaces. When something new is introduced in vogue, you can immediately search for it and the market will be at your disposal with new designs and models.
But the question that people often ask is how to buy the perfect sterling silver jewelry. Here are the basic tips on how to buy sterling silver jewelry:-
1. Occasion
Is it for a party, engagement or daily use? The occasion for which you are planning to buy sterling silver jewelry is really important to be discussed. Make sure it is simple and long-lasting if it's for everyday use while for an event fancy and heavy sterling silver looks more catchy.
2. Budget
Although the price of sterling silver is quite cheap and affordable as compared to other precious metals. But you should know your budget based on how often you will use the jewelry or is it to gift someone! If your budget is low, check out
wholesale sterling silver jewelry to find the best range of jewelry with amazing designs.
3. Style and designs
You can order customized products with your own individual design or choose from the store's available collection. Be it a ring, bracelet or necklace; choose the style that suits you better.
Always buy sterling silver jewelry from famous jewelers, they can show you the latest designs and best patterns to choose.
With a wide selection of sterling silver styles and designs, you will certainly find a piece that matches your personal style.
4. Quality
It is important to be careful with the quality when buying sterling silver items to get the most out of them.
Take time to look for visible defects before you buy sterling silver items. Examine various options to get the best jewelry in your hands. If you have sensitive skin, try not to buy nickel mixed sterling silver. Nickel usually causes chemical reactions in the skin.
5. Buying options
It is also essential to browse multiple online as well as offline stores and compare prices before buying sterling silver jewelry. It is advisable to read buyer's reviews on the jewelry to get an idea about product specifications and quality.
Also, see the post-sales policy. Is the seller responsible for any future defects or not? Is there a free refund, warranty, or support policy? These things are important to consider when you spend a handsome amount of money on silver jewelry.