The world of fashion is vast and fluctuating. Men and women now support the trend of modern fashion, and with the help of jewelry, you can set your trend. Your outfit is not complete if you do not have beautiful and exquisite jewelry to make a special moment even more impressive. Thanks to a combination of trendy fashion jewelry, your presence makes any exquisite party more exotic. Regardless of whether you wear high-end jewelry or cheap metal jewelry, just keep in mind that they are in the latest trends.
Sometimes, even though you get the trendiest piece of jewelry, you may not be able to coordinate it with the right type of clothes. It is equally important to match the jewelry with your clothes, makeup, and hairstyle. You don't need to go to a stylist for fashion advice. Here are the top 5 jewelry trends and styling tips for you. So, be ready to get lots of compliments by following these jewelry trends:-
Layered jewelry can be a great way to create a stylish and unique look that suits your personal style by offering a lot of freedom and many options. You can create a layered necklace with the chains you already have. You can combine chains of different lengths to create a long necklace, or you can wear a multi-layered necklace.
The long, multilayered chains go perfectly with full sleeves tops and shirts. They can also look good with higher necklines if the string matches the neckline of the t-shirt.
Silk tassels, pattern tassels, statement tassels, stud tassel drop dangles, boho tassels; you name it, and you can find each type of tassels earring you are looking for. These are lightweight and colorful earrings that give a swishy effect in your outfit and can be worn in any season or occasion.
Since the tassel earrings make a statement on their own, they don't need any other related accessories. But if you want to do something special with your look, you can coordinate it with a chain or pendant.
To show off your tassel earrings, pull your hair into a bun or high pony and let the earring hit your pretty face. Combine your favorite striped long sleeves shirt with tassel earrings.
Sterling silver is an elegant metal which generally looks better with light skin tones. But people with all types of skin tones can experiment with sterling steel jewelry. These days, everyone is obsessed with sterling silver bracelets and bangles. It is the most popular pair of bracelets. From sterling silver bracelets wholesale stores, you can get the names of your loved ones engraved on silver bracelets perfect for a gift. With fashionable and trendy bracelets on your wrists, you can introduce a bit of change in your personality.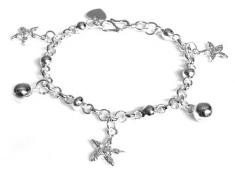 Do a little extra by going out with simple clothes and a gorgeous pair of stainless steel bangles. It will glorify your entire look by keeping all the focus on the jewelry. Sterling silver bangles wholesale stores offer multiple designs and popular patterns of bangles that are affordable as well as trendy.
If you want some charm to represent you, this is one of the best fashion jewelry items for you. Chokers give a neat appearance that will make your clothes look even more elegant.
Chokers and high necks are a big NO. Since chokers are a round piece of the band, your cloth should coordinate with it. Wear an off-shoulder dress to showcase your fancy choker.
Oxidized silver junk jewelry is timeless, and now is the perfect time to be fashionable by wearing it. This old design of rusty earrings is what has kept them for centuries. Oxidized earrings have become a very popular style of jewelry because of their unique appearance and effect on the face.
They are unique in a very subtle way, and you can wear it with any traditional attire. At weddings, anniversary, or reception parties, oxidized silver jewelry would rock.
The final verdict in fashion
Today's jewelry fashion trends allow you to explore varieties of jewelry combinations, be it earrings, bracelets, necklaces, and more. When you wear trendy jewelry, it makes you fashionable and unique. Be the spotlight in any party by opting for these popular fashion jewelry trends. 2020 is all about mixing and matching yourself with colorful jewelry. Wear popular jewelry items and great clothes to enhance your personality.