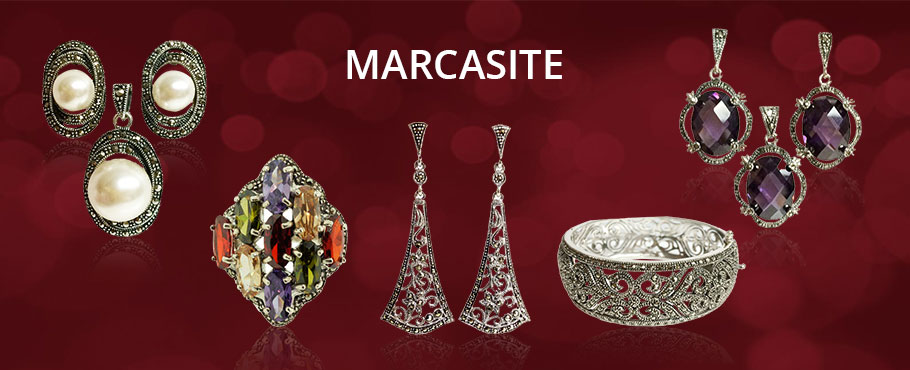 Marcasite jewels are any jewel made of fragile and colored metallic stone called pyrite. Pyrite is a gem very similar to gold, but it can also be darker and more metallic than marcasite. When small pieces are inserted into silver jewelry, the Marcasite style is created. Today in the world of stylish jewelry, marcasite jewelry is widely regarded as one of the favorite types of jewelry for its beautiful and intricate designs.
You should check your marcasite jewelry often enough to get a better idea of ​​its condition. If you notice dirt collecting on the edge, it's time to clean it. The key to manage Marcasite jewelry is knowing how to store, wear and clean it properly. The best way to prevent rusting and preserve the shiny appearance of your jewel is to keep the marcasite jewelry in a sealed bag when it is not in use. This limits exposure to oxygen and sulfur in the air. To avoid discoloration, always remove marcasite jewelry before applying cosmetics, getting into the pool, or doing activities like gyming and dancing. For someone who doesn't want to do cleaning stuff, you can purchase marcasite jewelry from wholesale shops. They guarantee the quality of the jewelry and offer unlimited design options.
Marcasite jewelry deserve special attention from time to time, so follow our advice to ensure that it remains beautiful and shiny:-
1. Toothbrush and Toothpaste
There are different ways to clean your marcasite jewelry with the products you can find at home. Apply toothpaste to the toothbrush, as you do before brushing your teeth and then wipe the dirt from the jewelry. Toothpaste contains chloride and other substances that are effective enough to clean without spoiling the original color of the jewelry. Gently clean the marcasite jewelry with a soft, damp cloth. Never use hot water and avoid soaps, detergents, silver baths or other chemicals. This type of jewelry is fragile, if a hard substance is used or if there is too much acid, this can ruin it instead of making it new again.
2. Cotton Cloth
A simple plan to keep your marcasite jewelry beautiful is to soak it once or twice a week in a delicate degreasing solution, such as water with a few drops of dish wash. After removing the jewelry from the cleaning solution, use a soft, clean cotton cloth to remove residual dirt. Marcasite Jewelry cleaning needs a softer touch, hence nothing is better than clean cotton cloth. Although soap and other detergents do not damage the marcasite, they can melt the glue that holds the setting in place. So, make sure you do not use harsh products to clean it.
3. Baking Soda
Make a paste with baking soda and water, place a small amount on your tarnish Jewelry and gently rub it using your fingertips. Rub your fingers on the jewelry surface in a circular motion. Then clean it with normal water and you can see changes in the jewelry. It becomes bright and comes to its original color.
Please note that cleaning Marcasites Jewelry is the key to regular cleaning to prevent misting during regular usage. Your work becomes more difficult if you leave the dirt to accumulate a lot and then suddenly try to remove it.
4. Vinegar
Soak your Marcasite jewelry in the solution of water and 5-6 teaspoon of vinegar. After a couple of hours, you would notice that the dirt is assembling under the pot. Make sure there is enough water in the pan to completely cover the pieces of jewelry. At last, wipe the jewelry with a soft cloth to remove water and lay them in the air until they dry completely.
5. Silver Cleaning Cloth
You can buy ultra-thin silver cleaning cloth from the supermarket and use it to simply shine up your Marcasite Jewelry without losing its natural character. Although these clothes are meant for silver jewelry it works the same for Marcasite Jewelry as well. You can scrub this cloth on your jewelry to remove dirt and oil. This is the most convenient way to clean your jewelry without doing any mess or fuss.