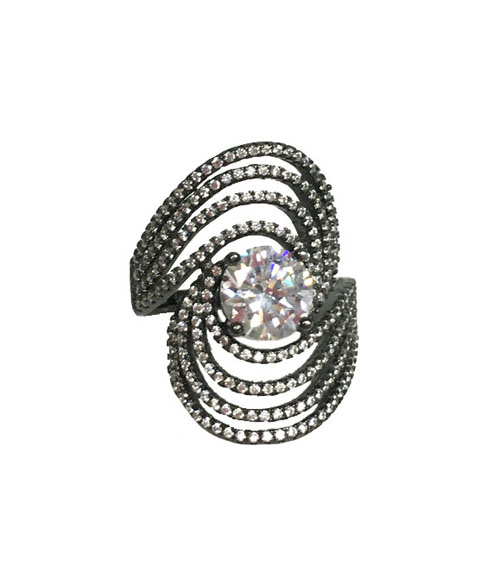 Love is in the air because it's that time of the year!
Every year, around this time, people scamper to find the perfect Valentine's Day gift that will make their partner go weak in the knees. And while clothes, chocolates, perfumes, flowers, champagne, and the like are all great gifts, there is nothing quite as heartwarming as a beautiful piece (or even better, an entire set) of jewelry.
Gone are the days when people believed diamonds to be a girl's best friend. Today's divas are dynamic and experimentative in terms of the outfits, jewelry, and accessories they wear. If you have been struggling to pick out the right thing to gift her this Valentine's Day, rest assured, you are not alone! The accessories market is flooded with versatile jewelry items. From rings and earrings to bracelets and pendants, you are likely to find a massive variety of jewelry accessories and honestly, it could get a little confusing to successfully zero-in on the right gifts.
Here's how you can take the mystery out of the jewelry shopping process:
Take your date or partner's personality into account and find something that complements it
When in doubt, take the classic approach – timeless jewelry never fails to create a good impression
Consult a jewelry expert to understand how you can choose the right gift depending on your budget and preferences
While gold, platinum, and diamonds are among the top choices when it comes to base metals and gemstones, jewelry made from these materials can be quite expensive. If you are on a tight budget and need something that is not just affordable but also exquisite, we recommend opting for sterling silver jewelry. Jewelry made using high-quality sterling silver looks absolutely stunning and is available in a massive range of options and designs. On that note, let us take a look at what our experts think are some of the best jewelry pieces you can gift your special someone this Valentine's Day.
Whether you are on the lookout for a plain metal band or a gemstone-studded silver ring, there is no dearth of choices with P&K Jewelry's sterling silver collection. Gift her a beautiful sterling silver ring and she will fall in love with you all over again! Our selection of sterling silver rings features designs with cubic zirconia (CZ), natural stones, colored gemstones, marcasite, and more.
There is nothing quite as breathtakingly alluring as a fashionable bracelet that can be worn to work, a date, party, or even just casually. When it comes to accessorizing, wristbands and sterling silver bracelets are a top choice for our customers because they are so versatile. Here are some of our bestselling sterling silver bracelet designs and options:
Lightweight double link charm bracelets
Vintage bracelets with that classic touch
Bangle bracelets that can be paired with a sleek watch
Engraved .925 sterling silver bracelets with rhodium and crystals
If you are shopping around for a gift that is neither an overt expression of your love (like a ring) nor something as basic as chocolates, you can find the right balance with jewelry accessories like bracelets or bangles. The best thing about bangles made from sterling silver is that they go with almost any kind of outfit. You can choose from an assortment of bangle types and designs in our catalog, including:
Charm beaded bangles
Bracelet Bangles
Oblong bangles
Cuff bangles
Emerald-studded bangles
Gemstone-studded bangles
Contemporary earrings for women are available in a huge variety of types, sizes, shapes, and designs, which means you have a plethora of options. Sterling silver earrings are quite affordable and durable, too, depending on the gemstones you choose. Among the most popular types of sterling silver earrings, here are a few that we think make for an excellent Valentine's Day gift:
Stud earrings with charms
Dangle earrings with beads
Drop earrings
Hoop earrings
Crystal earrings
Classic vintage earrings
Modern decorative earrings
Sterling silver earrings with geometric shapes
What says "I love you to bits" more than a sleek, breathtakingly gorgeous necklace with a subtle pendant on it? Nothing! We believe that your beloved one deserves nothing less than the best, so our catalog features a lovely selection of shimmering sterling silver chains that are designed to impress! Some of our most popular necklaces and chains include:
Sterling silver pendant sets (casual and party wear)
Gemstone-studded sterling silver chokers (for date nights and special occasions)
Swarovski sterling silver necklaces (to be paired with elaborate, luxury outfits)
Sterling silver beaded neckpieces (daily wear and formal wear)
Buy a Special Gift for Your Valentine at P&K Jewelry
P&K Jewelry offers a diverse assortment of sterling silver and stainless steel jewelry that is available for wholesale purchase on request. Our catalog features timeless sterling silver rings, earrings, necklaces, bangles, bracelets, and more. Our designs are sourced from countries like China, Thailand, Bali, India, and Mexico, thus offering a truly wide-ranging selection of high-quality sterling silver jewelry.
Several leading resellers as well as individual buyers in the United States rely on P&K Jewelry for their sterling silver jewelry needs. If you are a bulk buyer, we are sure your retail customers or end customers are scurrying for last-minute Valentine's Day gifts. There is no better way to serve them than offer a wide variety of accessories that you can buy at P&K Jewelry. Explore our sterling silver jewelry (available for wholesale buying) and place your orders now!