Shopping for the best earrings for yourself or a loved one? If you want to make a statement with your stud earrings, you can never go wrong with studded earrings. They are small, easy to wear, versatile, and give a professional look. Diamond studs ooze timeless beauty and are a must-have in every woman's jewelry box.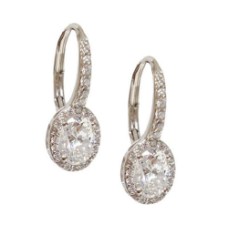 Whether you want to gift a special woman in your life or you want to pamper yourself with outstanding jewelry, studded earrings will do the trick. However, choosing the best studs is not easy as there are many styles, backings, settings, metals, diamond sizes and shapes in the market. To make the right choice, here are some tips to guide you.
1. Set A Budget
If you want to buy diamond studs easily, then you have to set a budget before hitting the stores. It makes your work easier and you will not ruin your finances. Many shoppers visit online jewelers without a set budget and end up buying everything else except what they wanted.
A realistic budget also helps your jeweler find the right item for you. When setting the budget, consider what you want from your studded earrings. Different designs, styles, metals, diamond sizes all have different price tags.
2. Choose the Best Diamond
The choice of a diamond will make or break the appearance of your stud earrings. You have to carefully select the center stone and any other diamonds that will feature on your earrings. The first thing to consider is whether the diamond is GIA-certified. If it is not, look for any other third-party lab certification to determine the authenticity of the stone and its origin.
Below are some of the most important things to consider when choosing a diamond for your studs:
Diamond-Cut: The cut determines how brilliant and sparkling a diamond turns out on your piece. For your stud earrings, you want an outstanding stone that displays a dazzling shower of light and also reflects light internally. To get such an effect, you should invest in a "good" or "excellent" cut.

Diamond Color: The best diamonds are colorless but also very costly. The color of a diamond will not affect its brightness or sparkle. You can go for a bold color if you want something outstanding. However, you should not pay more to get a colorless stone.

Diamond Clarity: All diamonds have inclusions, and clarity should not be a major consideration. You can find the perfect stone in theVS2-SI2 ranges where any inclusions are not visible to the naked eye.

Diamond Carat Size: This should be as big as your budget allows though a one-carat total weight will work perfectly. However, you can save money on the carat size and instead spend more on the cut for the best stone.
3.
Diamond Shapes
Round and princess cut are the most popular for diamond studs. Others are hearts and arrows, hearts and arrows, marquise cut, oval shape, the Asscher cut, and the emerald cut.
For a broad face, go for elongated diamond shapes like the emerald cut, marquise cut, and radiant cut which complement your face. For a thin face, the best diamond for your stud can be round cut, princess cut and Asscher cut as they would flatter your face shape.
It is also important to note that round diamonds offer more sparkle and brilliance.
4. Choose the Right Setting
After choosing the perfect stone for your stud earrings, you need to find an appropriate setting to go with it. The most popular styles you can select for your studded earrings are:
Prong

Basket.

Bezel.

Crown.

Martini.
Each of these differs in terms of how it secures the diamonds or other gems. The setting also determines how visible the gems are and you should consider this when choosing one.
5. Metal For Your Diamond Studs
The metal you choose determines how brilliant your earrings will be. The most popular metals are Gold and platinum. If you want to upgrade your jewelry collection, you can buy sterling silver earrings wholesale diamond earrings on the market. Other popular metals for studded earrings include stainless steel and titanium.
6. Stud Earrings Backing
Many people forget about the backing for their studded earrings yet it is one of the most important considerations. The earrings backing determines how safe, comfortable and easy to wear your earrings are. You can opt for friction earring posts and nuts, screw-back earrings and la poussette locking earring backs
Final Thoughts
Studded earrings are an essential in every woman's jewelry collection. Whether you want to upgrade your jewelry box or gift a special woman in your life, you have to consider these factors carefully to get the best stud earrings. Go on and find that pair of studs to dazzle every time you go out.