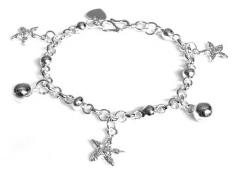 A silver bracelet is a kind of accessory that stylishly decorates your daily look. Bracelet with elegant design decorated with polished metal adds bright reflections to the wrist and delights the compliments in conversations. A silver bracelet can be complemented with every kind of outfit.
As per the high demand for jewelry especially bracelets in terms of fashion. Since sterling silver bracelets are a popular fashion trend, you do not have to go anywhere. These bracelets are available in various online fashion and jewelry stores.
The beauty of bracelets is that they can widely be used by both men and women. Usually, teenagers love wearing various styles of bracelets. There are also different types of bracelets, such as the classic tennis bracelet, the designer diamond bracelet, the red carpet bracelet, the vintage bracelet, gemstone bracelet, the gold and platinum bracelet, etc. But no other bracelet can compare sterling silver bracelets. They are elegant in look and can be styled with any outfit on any occasion.
Everyone's sense of fashion is different but luckily, there are multiple options in silver bracelets to choose from. So, here are 6 major styles in silver bracelets that you can pick, based on your taste and preference:-
1. Single strand bracelet
The most modern design of the decade is simple and stunning. Simple Sterling silver bracelets have invaded the market. You can also get delicate and plain single strand bracelets online that will steal the show. Plain bracelet of decent quality has become the current choice of the majority of people.
If you're thinking about a big event, reception or office party, this bracelet is a perfect piece of jewelry to intensify your look. For older women, this plain bracelet can be minimalistic, sophisticated and can easily complement their entire look.
2. Cuff bracelet
The cuff is a kind of bracelet that is in C-shaped or probably oval. Cuff bracelets can be studded with crystals or diamond-like stones which makes this fine bracelet even more fine with an additional touch of brilliance. These types of lustrous cuff bracelets should be worn on a wedding night to look different.
If you are a college-going student who just wears casual tees and dresses, you should definitely go with a silver cuff bracelet. It changes the outlook with minimum effort, just put a silver cuff bracelet and you are done. Rather than simple cuffs, you can choose criss-cross cuff bracelets also known as hinged cuff bracelets.
3. Chain bracelet
Chain bracelets are in small narrow, almost imperceptible links or open and closed versions. Wear a chain bracelet with a pendant to create a unique look for yourself. You can also add drop earrings with it to complete the look. Silver chain bracelet is a very classic and elegant accessory one could own. Chain bracelets itself comes in multiple styles like snake chain, curb chain, cable bracelet, etc. Each chunk of chain bracelet is made of polished silver that helps in forming this classic feminine bracelet.
4. Roman link bracelet
Wearing a new Roman stainless steel bracelet is an incredible way to add an attractive and neat look. The Roman bracelet is a combination of running lines and rope-style joints that are unusual and gives you a perfect fashionable touch. It is being believed that Roman link bracelets are only for men but today; even young girls and ladies have started wearing it with denim and shirt.
5. Bangle bracelet
Bangle bracelet is a kind of bracelet that is generally a stiff circular, but it can also be oval, it fits more easily around the wrist giving it a boho look. Talking about the size, the multi-layered bangle bracelets do not exactly match the size of the wrist, while they are usually larger than the wrist. You can customize the design and size of bracelet from sterling silver bangle wholesale showrooms. This type of bracelet can be the best gift for your near and dear ones.
6. Pearl bracelet
The pearl is used to make beautiful jewelry, such as pendants, earrings, bracelets, rings, and even brooches. For a crystal clear look at the wedding or in a get-together, you can choose a pearl bracelet for yourself. You don't even have to do heavy makeup or anything, a pearl bracelet can itself draw everyone's attention on you in a gathering or party. You can wear it with your basic daily clothes, as well as an office outfit.