February is the month of love and with valentine just around the corner, you need to get that perfect gift for Valentine's day that special lady in your life. Buying a gift is supposed to be an exciting affair but that's until you look at the overwhelming gift options on the market.
The Ultimate Valentine's Gift
For a romantic occasion such as valentines, the pressure is even more as you want to get that dream gift. The item you choose should light that spark of romance and express how you feel about her. What's more, you want a gift that will always remind her of you everywhere she goes.
It is not easy finding such a gift but luckily, you can never go wrong with jewelry. Jewelry gifts are versatile as they have both symbolic and functional functions. Every time your partner wears that piece, it will reignite the feelings you have for her.
You can choose from a wide variety of jewelry accessories to find the perfect piece. It is also possible to customize the jewelry gift to suit your loved one's taste and personality. There's nothing better than seeing that glow in her face when she receives the gift.
Finding the Perfect Jewelry Gift
The best thing about jewelry gifts is that you have the widest range of accessories to choose from. Below are some of the best jewelry gift ideas for valentine's day:
1. Birth Month Flower Necklace
Flowers are popular with Valentine 's Day but you can go further and use this idea in your jewelry gift. Think of a birthday month flower necklace with a dried flower encased in clear eco-friendly resin.
This is an innovative gift idea which you can customize to suit your partner. You can pick her birthday flower month, for instance, a daisy for April or carnation for January.
For the chain, you can choose a bright metal such as stainless silver, or go for the timeless gold chain. These necklaces are handmade and popular eco-friendly gifts for this special occasion.
2. Charm Bracelets
A bracelet is a classic jewelry accessory that never goes out of style. It is easy to wear with any outfit and suits any occasion. For Valentine's 2020, you can go for a charm bracelet that rekindles the memories you have had together.
Many people buy 925 sterling silver jewelry wholesale and you can also go this way to upgrade your lover's jewelry collection. From the collection, you can pick the charm bracelet for the occasion and even customize it with a lovely message.
3. Cupid's Arrow Gold Necklace
Cupid's arrow has already done its work if you are celebrating Valentine's with someone you love. To mark this romantic, you can choose a cupid's arrow gold necklace to show your partner you how you feel. It is an ideal gift to celebrate this romantic occasion and your partner will appreciate the gesture.
4. Cute Earrings
Beautiful earrings are a classic jewelry gift and they never go out of style. Women love their earrings and spend a lot of money and time looking for the latest styles. You should consider surprising your loved one with a cute pair of earrings in an outstanding style/design.
Some of the best earrings for Valentine 's Day include:
Diamond stud earrings: Diamond studs will never go out of style. They are smart, subtle and classy and your partner will appreciate the effort. Take time to select the perfect stone for the earrings to sparkle more. You can go for gold, platinum or sterling silver for the settings and back to complete the stylish look.

Hoop earrings: Ladies love hoop earrings as they amazingly complement their outfits. Gold hoops are the ideal choice for a valentine gift as they are ideal for any occasion. You can choose trendy mismatched Mini Star Moon Charm Hoops to ensure your loved one stays up-to-date with the latest fashion.

Drop earrings: Another classic jewelry gift that oozes timeless beauty is a pair of drop earrings. You can choose a heart-themed pair of earrings in your partner's favorite color for this big day.

Pearl earrings: Pearls are beautiful and practical for dressing up or down. You can choose pearls in any color to suit your partner's taste.
5. Diamond Tennis Bracelet
Diamonds are a woman's best friend and as they say, they last forever. That's why you can never go wrong with diamond jewelry as a valentine's gift. A diamond tennis bracelet is a classy and stylish gift for a loved one. You can choose it in sterling silver as this bright metal complements the brilliant diamonds.
6. Pearl/Diamond Eternity Ring
If you have just started your relationship, you should choose the valentine gift carefully. One simple gift you can use is an eternity ring. It is a symbolic ring that represents your commitment to the relationship. Go for a classy diamond/pearl ring set in sterling silver, gold or platinum. It is a perfect gift to show your lasting affection.
7. Heart Diamond Necklace
What better way to show your love than with a symbol representing your feelings? A heart diamond necklace is one of the most popular jewelry gifts for lovers. Ladies love beautiful necklaces and for this great occasion, you should consider a delicate and luxurious diamond necklace set in gold.
8. Birthstone Jewelry
Every month has a beautiful stone representing it and you can use this as an inspiration for beautiful Valentine's Day gift. For instance, choose an emerald ring if your partner was born in May or a garnet bracelet for January. You have a wide range of jewelry options to choose from as long as you know her birthday month.
9. Cubic Zirconia jewelry
Gifting your loved one a Cubic Zirconia is expressing your willingness to be extravagant because your love for them is limitless. Ideally, diamonds are valued because of their cost and Cubic Zirconia jewelry sets at the pedestal.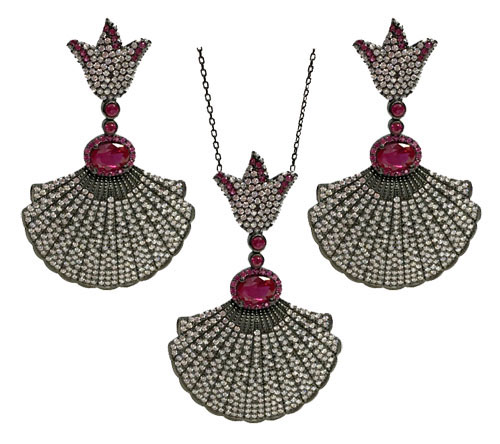 Some people might say that Cubic Zirconia has too much color but if you fancy extravagance, this is the way to go. Even though they are not real diamonds, they are way more elegant.
Final Thoughts
Finding the best gift for Valentine is not easy but with these ideas, you can get started. Make sure you learn your partner's taste and preferences when choosing a jewelry gift. You should also consider how far your relationship is when choosing the gift. You can never go wrong with jewelry gifts as they are pretty, stylish and practical too.