If you love the latest jewelry trends, you are most likely a fan of the runways. The spring 2020 collections hit the runways and jewelry was a big part of the shows. From New York, London, Milan to Paris, there was fun and exciting jewelry that will dominate the fashion scene in 2020.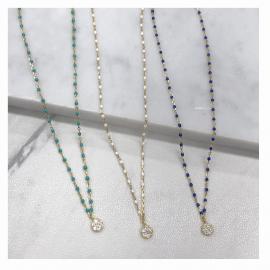 From colorful gems, oversized statement pieces, full-body jewelry to mismatched and single earrings and other ideas, the shows brought fabulous trends that fashion lovers will love. This guide highlights some of the outstanding trends that you can expect in the spring of 2020.
1. Colorful Jewelry
Traditionally, jewelry designers have focused on precious metals such as gold, diamond, silver, and platinum. However, there's is a shift in trends in 2020. The fashion runaways experienced an explosion of color and this is something you will also see in the spring 2020.
From bright floral and beaded jewelry to the colored gemstones, there is a move away from traditional colors of gold and diamond to bolder colors of other gemstones. The mismatched colors and stones will also make for eye-catching jewelry on the market.
2. Big Hoops
Hoops are a classic and timeless jewelry trend and this will not change in 2020. Across the biggest spring 2020 runaways, XXL hoops dominated and you can expect them to do well on the market. The big gold hoops were conspicuous and will work perfectly as statement pieces.
The hoops work on every style from LBDs to power suits and this gives you interesting ideas for this jewelry trend. With Supersize hoops popping up on every runaway, you can bet they will do well on the market.
3. Body Jewelry
Jewelry designers push the boundaries every new season and 2020 is no exception. Outstanding fashion designers such as PacoRabanne and Julien Dossena have blurred the line between jewelry and dress and it has worked magic.
It is an idea that has simmered below the surface but it did exceptionally well during fashion weeks. You can expect jewelry prints and other trends combining dress and jewelry to emerge as a hot trend in 2020.
4. Oversized Links
Chunky chains are back and they look greater than ever. The oversized links seem to have replaced dainty jewelry as fashion designers go for bolder looks. The thick metal styles popped up at Brandon Maxwell, Zimmermann, Bottega Veneta and Ports 1961 fashion shows.
These shows feature the best fashion designers who also influence market trends. The idea of "bigger is better" when it comes to link chains has started gaining steam and you will see it more on the market in 2020.
5. Sleek And Modern Pearls
Pearls never go out of fashion and if you look at your grandma's jewelry box, you will find lots of them. However, pearls have undergone an evolution and what featured on the market a few years back is now old school.
You can expect sleek and modern looking pearls on the market based on what popped up on the 2020 spring runways. From petite polished pearls at Jason Wu to edgy and sculptural at Prabal Gurung, the trends in pearl jewelry have changed.
6. Mismatch Metals
For a long time, fashion experts have advised on matching metals but this is now a boring fashion idea. The spring offers a fresh moment to try bolder ideas and this is one reason mismatch metals featured prominently on the runaways.
Fashion designers now blend two-tone metal jewelry such as white gold with rose gold to make stunning pieces. From rings to necklaces, jewelry makers are now bolder in combining metals and the results are magnificent.
6. Single Earrings
When shopping for earrings, you always think of a pair, right? Well, that might change in 2020 if the single earring trend picks up. It is an avant-garde style and you'll break all the rules with it. With a statement-making earring, you're ready for the future of earpiece styling.
From Prabal Gurung to Marc Jacobs and Tibi, the solo earring was a dominant spring 2020 feature on the runways. If you are the bold type, there's no better way to make a statement than with a single beautiful earring.
8. Rise of Silver Jewelry
The qualities of silver have given it the edge over gold and other metals in jewelry making. From its brightness, affordability, ease of customization, availability to the ease of combining with gold and other metals, silver is the ultimate jewelry making material.
It is a versatile metal and fashion designers play around with it to make impressive pieces. From modern hoops or a herringbone necklace, chain-link bracelets to sculptural rings, you will see more of silver jewelry on the market. If you want to buy into this trend, you can overhaul your collection by buying silver jewelry wholesale.
9. Seashore Jewelry
The sea and sand have always provided inspiration for jewelry designers. There's now a bigger movement seeking pathways for seashore jewelry to make charm necklaces, statement earrings, and bracelets.
There are many seashore items that can make awesome jewelry. You will find more of these in the stores come spring 2020. It was a popular trend on the 2020 spring fashion runaways which hints to a big trend on the market.
10. Statement Collars
If you need something spectacular in your outfit to grab attention quickly, you need a statement collar. It is a jewelry trend that works perfectly for both maximalists and minimalists.
While the large chokers and chain links are hard to miss, they are also neat, sleek and streamlined in design. These statement necklaces appeared at Elie Saab, Gucci, 3.1 Phillip Lim, and Alberta Ferretti's runaways.
Final Thoughts
Thinking of buying new jewelry in 2020? You can now seek inspiration from the top trending styles from the runaways. These bold jewelry designs always go ahead to dominate the market and you can become one of the pioneers. Nothing feels better than rocking the latest jewelry trend when most of your friends don't even know it exists. Go ahead and buy into one of these trends to set the standards.