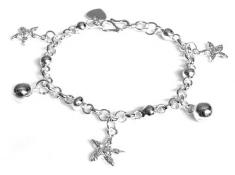 Centuries ago, jewelry was quite rare, but today the jewelry industry is filled with amazing designers who work with fine materials. Many bracelets and bangle designers position their lines as collectibles that you can wear for years to come. However, you should note that we keep getting bombarded by new designs on Instagram and other social networks.
How are you then to choose the aesthetic best sterling silver bracelets when there are so many options out there. It's overwhelming? There are so many ads that keep popping up on your computer screen when you're surfing for sterling silver bangles.
Many end up logging out due to sensory overload because everywhere you look; there is a new bracelet design that's appealing to you.
To find the rare talents with staying power, you should shop with well-reputed silver jewelers. This way, you'll get access to creative pieces that best suit you. If you're not jewelry savvy, you should consult with professionals who have worked with amazing designers over the years.
You also need to do timely research to know the most popular styles for men and women. This article will break down the bangle and jewelry types you should look out for in 2020.
Stainless Steel Bracelets
At the top of our list are stainless steel bracelets because they're made from water-resistant material. Stainless steel outperforms silver and gold when it comes to water resistance. Since bracelets are worn on the wrist, you are bound to get your bracelet wet at some point.
Stainless steel is also very durable, which means that you can wear your bracelet for a long time before they start getting old and rusty. Silver and gold are not as aesthetically appealing compared to stainless steel after you own them for years.
Aside from durability, sterling silver bracelets are also cost-effective. Their affordability has encouraged their popularity over time. As a renowned jeweler, you should always have sterling silver bangles in wholesale because they're here to stay.
As a man, you should go for bulky steel bracelets. You can also wear less bulky pieces if you're not worried about looking feminine. You can either have chain bracelets, or stainless steel connected with silicone, leather, or rope.
Leather Bracelets
Next up is leather bracelets, which is a classic choice for men. Women, too, can wear leather bracelets as long as you pair them with the right attire. This is another popular bracelet style in 2020 since it's sleek and elegant.
As a man, matching the leather on your bracelets with that on other leather accessories makes you look fancy. As you know, leather is used on wristwatches, belts, bags, and even shoes.
For instance, you can have a black leather bracelet and a black leather wristband. Leather bracelets come in many exceptional colors even though the most popular ones are the neutral colors.
Beaded Bracelets
This is a popular bracelet design because it's quite simple, and individuals of all ages can wear them. Because of this, they're quite affordable and easily accessible. Beaded bracelets are versatile pieces of jewelry that are not only durable but aesthetically appealing as well.
You can wear your beaded bracelet with casual as well as formal attire. Many people who own beaded bracelets never take them off even when they're showering because they don't wear off easily.
The beauty of beads is that they come in whichever color you want. You can have several beaded bracelets or just the one that you never take off.
The material that bracelet designers use for beaded bracelets also varies. Ideally, you should go for materials with neutral colors like white, black, or grey. It makes your bracelets go with everything you wear.
As a bracelet lover, you'll appreciate the positive energy that comes with natural stone beads. You can also go for obsidian or lava stone beads. Natural stone beads are quite luxurious because they've heavy, and this gives them a valuable feel.
If you wear wristwatches, you should know that beads work well alongside watches. You can also wear a beaded bracelet, a steel bracelet, and a leather bracelet to give you a fashionable edge.
Anchor Bracelets
Anchor bracelets have been in the market for years now, and you don't have to be a sailor to own a pair. You can rock anchor bracelets even if you're not interested in the sea.
The meaning behind anchor bracelets is the strength required to keep a ship anchored even through the stormiest weather. As a man, wearing an anchor bracelet communicates that you're strong and dependable.
In this case, stability should be physical and mental as well. The anchor symbol is a popular choice among men, but women too can wear them. After all, we've known very strong and amazing women over the years.
Anchor bracelets are eye-catching, which means you can wear them as stand-alone jewelry, and you'll achieve the look you were going for.
Macrame Bracelets
This is the perfect every-day bracelet because they're resistant to wear and tear. They're made to be adjustable so that you're always comfortable wearing them.
Macrame bracelets are pieces of jewelry made from water-resistant ropes. This means than you can own a pair for years, and it won't get tarnished. They fit on wrists flawlessly, and they won't leave rope marks on you.
These bracelets are ideal for a stacked look, and you can incorporate charms and beads that appeal to you.
Cubic Zirconia Bracelets
Last but not least, there's cubic zirconia bracelets that are ideal for both men and women. Cubic zirconia is the perfect alternative for real diamonds because it's durable and affordable.
Since cubic zirconia, manufacturers manage to achieve stones that are even more sparkly than diamonds. You get to achieve a luxurious look without spending too much on a bracelet.
Conclusion
Now you have a comprehensive list of bracelet types to look out for in 2020. Remember to always shop with well-reputed jewelers so that you get quality products. You should go for water-resistant bracelets that don't fade or get damaged over time.