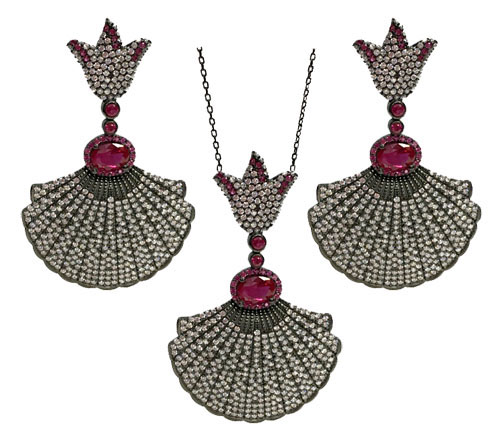 Earrings are considered to be the most fashionable jewelry piece in every woman's wardrobe. They are the only staple piece that is adorned by every woman. An exquisite pair of earrings can elevate your ensemble and can add a spark of brilliance to your day. If you are thinking of adding a new selection of pairs in your own jewelry box or planning to gift them to your loved ones, there are plenty of styles of earrings to choose from.
So to help you find your new favorite piece of an earring, in this guide we have briefed about the most popular style and our team of P&K has shared the trending earrings styles which you can look forward to in 2022.
Let's get started!
Types of earrings 
First, let's discuss the type of earrings. Whenever you decide what type of earrings you want to wear, there is always a particular style that suits your personality and the occasion for which you are dressing.
Stud earrings: Stud earrings are a small type of earrings that sit snugly on your earlobe. Stud earrings mostly feature simpler designs. They are a staple of almost every woman and you can wear them on any occasion from a day in the office to casual dating. All thanks to their minimalistic style and secure fit, stud earrings are a perfect option for newly pierced ears.
Hoop earrings: Also named as loop earrings. As the name suggests, hoop earrings are circular in shape and are the lightest piece of jewelry. They are like a sleek bangle that extends from the front of your earlobe to the back. There are plenty of sizes of hoop earrings available to choose from. Whether you wish to choose a small (huggie earrings), medium or large loop, it depends on your personality.
Drop earrings: They are an extension of stud earrings that just drop below your earlobe but stay fixed to your ears without dangling down. Dangling earrings are the statement pieces that are best for an evening date or at any special occasion like wedding parties. You may find them similar to dangle earrings but there is a difference that drop earrings do not sway while walking.
Sterling silver earrings: Sterling silver earrings are the next enduring style. Silver is a very soft metal so the metal used to make jewelry is sterling silver in which 92% of silver is mixed with a strong metal like copper. Due to this, sterling silver earrings are a good option for your everyday wear. If you want to upgrade your jewelry box you can buy sterling silver earrings wholesale on our website at very affordable prices.
Gold plated earrings: Gold plated earrings are a favorite trend that pairs well with almost everything. So they are a go-to jewelry staple for your daily look as well as for special occasions. They are made from materials like brass that are coated in a layer of gold making it a budget-friendly option to buy pure gold jewelry. Gold plated earrings give you the best look and the perfect style without the higher price tag associated with gold.
Earrings trends for 2022
No jewelry box is complete without adding some pairs of trendiest earrings. So we are sharing with you the latest earrings trend which you can witness in 2022.
Making a bold statement: Heading towards summer, there will be the huge significance of statement earrings. From drop earrings to costume earrings, bold statement earrings count to be big in more ways than one and are unique on all fronts. When it comes to making a bold statement, long styles are often suited in the summer season as they are the best type of earrings to wear with short hair.
Hoops earrings aren't going away – they are here to stay: Hoop earrings specifically huggie style hoop earrings will be a key trend in 2022. If you are thinking of the size of the hoops, then we suggest you go with any kind of hoop. Small or large, delicate or chunky, the choice is yours- hoop earrings are among those that suit everyone.
For huggies loop, we advise that statement pearls are a must-have. Because of their simple design and sophisticated pearls, they are best for casual and special occasion dressing.
Plenty of colorful earrings: Colorful earrings can play a big role in 2022. Colorful designs may include resin, bead, or enamel.
When you go for resin earrings, you can pair them with pastel tones of pink, light blue, or green ensemble. Or if you are choosing bright yellow or pink beaded earrings, you can pair them with beaded necklaces and that will definitely become a trendsetter for the year 2022.
Go for mix and match: Mismatched earrings will be another popular trend you will be seeing in 2022, and are considered as the most playful way of showing off your individual personality. When you are going to mix and match your earrings, keep the rest of your jewelry that you will wear to be more toned down because it can make your entire ensemble look cluttered.
So why should we stop at just earrings? Have some confidence and you can mix and match your earrings and can create an outstanding outfit that you have not imagined before. So let your sense of style outshine and bring your mixinsta out!
Conclusion:
We hope you find this guide useful and you have been inspired to select your next piece of earrings for your jewelry box that will highlight your natural beauty!
Visit us at our website to explore all the latest and exquisite collections of designer earrings online. P&k brings to you an enormous range of fashionable earrings design that suits well for any occasion and outfit.
Do you like our article? Then consider checking our collection of CZ jewelry wholesale on our website and discover what is available to you!