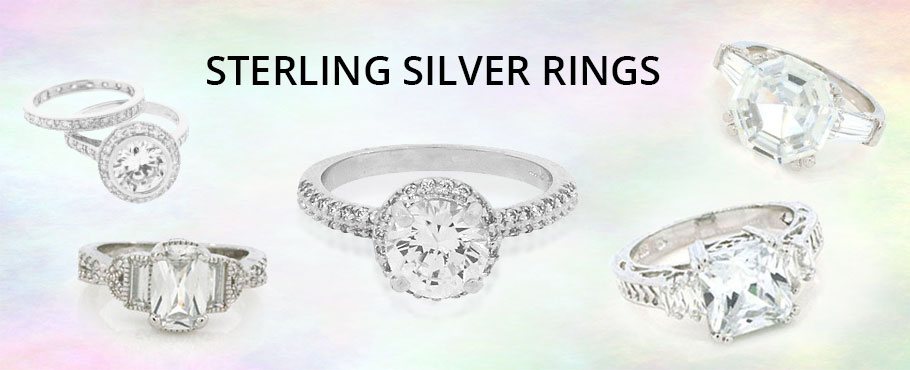 Sterling silver has a unique grace and beauty that other metal jewelry can never reach. Pure silver is very soft for everyday use, so it binds to copper or other metals to increase resistance. Copper makes silver harder, more resistant, and, therefore, much easier to work and use without compromising on color. Sterling silver jewelry is typically 92.5% pure silver and is often called "925" which means there are 925 pieces per thousand silver. It is a valuable metal at a very low cost.
If you are looking for high-quality jewelry, go with sterling silver since they are an excellent choice of metal when it comes to jewelry. The metal does not rust even after constant use, and it will remain great in the future. You must also be able to pass on your silver jewelry to future generations. The softness and subtle design of the sterling silver jewelry rings can make them a suitable accessory for every occasion.
These are the 7 crucial things you should know about sterling silver rings:-
1. Easy to maintain
To maintain the original luster of any metal jewelry, you need to clean it at least once a month. Sterling silver rings are easy to clean, and the results are excellent. You can use toothpaste or baking powder to clean your ring. Avoid using thin paper towels as they can scrape the silver. You can easily get silver care polishes or suitable solutions to remove stains.
Despite these, you have to take several precautions while dealing with sterling silver rings:-
Keep it dry.
Do not touch it often; grease and sweat on the hands can cause corrosion.
Rub your jewelry with a damp cloth, and it would do wonders with crystal jewelry without damaging the surface, then rub them with a clean, dry cotton cloth to make its natural shine stay.
Store your jewelry separately.
2. Multiple designs
Sterling silver jewelry comes in multiple designs than possibly any other metal jewelry would offer. You can find rings for every mood and every occasion. According to the latest trend, jewelers are making top-notch designs with extraordinary patterns and cuts.
Also, sterling silver rings can be resized. If your ring doesn't fit you anymore, you can go to the nearby jeweler and get it fixed within an hour.
3. Long-lasting shine
The complexity and shine of 925 sterling silver rings do not fade due to continuous use. These precious metals provide long-lasting shine, just like platinum and gold. It retains its present intrinsic value and is generally used by both men and women. 925 sterling silver is also rust-free and tarnish-free, unlike any other cheap jewelry.
4. Hypoallergenic
Another important thing about sterling silver rings that you should know is that you can wear it every day because sterling silver is allergy-free. Most of the metal jewelry consists of nickel, and it can cause allergic reactions in the skin. Hence, it is better to buy 925 silver as the chances of getting a nickel are very low compared to other silver alloys.
5. Durability
Sterling silver is not entirely made of pure silver. Only 92.5 percent of the alloy should be silver, and the remaining 7.5 percent should come from other metals, mainly copper. This slight addition of another metal provides silver's strength and durability, without affecting the beautiful appearance of white and grey.
Buying a sterling silver ring is an excellent idea because you would never find wear and tear for a long time. Sterling silver rings are able to hold its shape and texture.
6. Lifetime authenticity
The number 925 is written on silver, usually on the hidden part of the gem. This number is called the trademark and represents the purity of silver in the alloy. In other words, 925 is identical to silver, which means that the other stamps in the metal are not sterling silver.
Sterling silver jewelry is an excellent investment because it will last forever if you use it properly and clean it from time to time. Therefore, sterling silver has a high exchange value during the life of the product and retains its value for future generations.
7. Inexpensive
The cost of sterling silver rings is significantly lower than that of metals such as gold and platinum, so you can easily invest in such beautiful silver jewelry.
People who are worried about spending a lot of money in jewelry stores should check out sterling silver rings wholesale collection for affordable prices.